"Which is the criterion to vote for a 'best film', when there are no other specific branches?…
My only question to think about it is: which is a 'better' film? The one that is perfectly technically made, where all the parts that compose the film are in the best symbiosis? Or the one that has maybe mistakes, that is not really 'proper', but that you remember its images for a very long time?…"
(Valentina Moar, artistic director of DanceOnScreen)
The jury of the first Dance on Screen Award has been represented by the choreographer, dancer and ballet master Sarah Taylor (AUS), by the film-director Giuseppe Domingo Romano (IT) and by the dancer, choreographer and regisseur Hallgrim Hansegård (NOR).
DANCE ON SCREEN AWARD 2017 goes to:
SUR TON DOS by Justine Berthillot&Frédéri Vernier – FR
photo: Philippe Ariagno
DANCE ON SCREEN – SPECIAL MENTION goes to:

JUANA AND THE SACRED SHORES by Antonne Santiago – PHL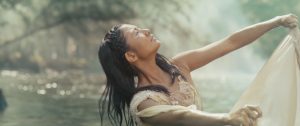 The "Dance on Screen Award" for the "best film" is been sponsored by the production house EXCEPT from Milano.